How Analytics Provide Insight into Your Website's Effectiveness
Over 4 billion people are online and it helps businesses find customers. Therefore, your company's website is significant. It's like a door to your brand that shows a detailed perspective of your web pages. You must know if your site works efficiently and is customer-centric.
Does it change browsers into buyers? Yes, it does and web analytics has a huge contribution to it.
Analytics are key tools for the growth and consistency of your brand. They help you view your company's success according to changing market trends. They can show you what to fix just like a doctor. It checks your site's health for any issues that could disrupt your business from taking off.
Web Analytics in particular is an extensive tool that provides insights not just about the functioning of the website but also helps managers understand the customer's specific demands. This improves the company's customer reach to give better results.
Let's see more details about how web analytics helps business owners, entrepreneurs, and marketing experts.
How Analytics Provide Insights
Keeping an Eye on Traffic to learn Interest
The main factor in the site's online analysis is traffic as it informs about the website's visitor count. Think of a shop owner who sees how many customers visit each day. Monitoring the online flow of viewers is similar to this. It shows if people check your web page and therefore create a robust business strategy.
By constant monitoring, it becomes easier to be informed of changing market trends and demands. Big changes in checking user's views need more study.
Follow Key Performance Signs
Key performance signs, or KPIs, are useful in various ways. They show the actions visitors take with detailed and specific services. You can take it into account when you want to create a new website. If you do not have time, you can also look for a website builder. When looking for the cheapest website builders, make sure it suits your KPIs. This way, you should remove failed parts to improve performance. Web pages should do the same like check bounce rate, conversion rate, and user stay time. If these KPIs are too low, then you need to take notes to improve them.
Find Your Strongest Traffic Builders
If a website doesn't perform well, it might not have enough visitors. Monitor where your traffic comes from and it will show who brings the most users to your online site. It is useful to gather extensive information about user's interest in your products or services.
Knowing your best traffic sources is relevant. Is it through a web search, or through ads? Use more of the best online user's sources. If some sources lack a few details then instant changes should be made.
DO YOU KNOW?
Google launched a premier, enterprise-level version of Google Analytics in 2011 to meet the demands of marketers who typically use Adobe's SiteCatalyst or IBM's Coremetrics.
Learn Visitor Interaction
Web analytics help understand visitors' usage and demands. Click-through rates show engaging links that help assess requirements. Heatmaps reveal scrolling and clicking. If there is limited activity means a weak connection that may disrupt customer reach.
Data is like observing shoppers which helps serve clients better. It also improves customer's overall experience which is necessary for the company's growth. Creating value-based connections with the users should never be ignored. In fact, it is one of the key tools for maintaining quality products and services.
Find Top Products, Services
Store Owners know popular products that are in demand according to the market valuation. Analytics convert those pages to specify offers that could attract users. In addition to this, using sales forms acts like registers to collect consumer data.
Visitors choose what's worth buying as per their needs. This creates conversion funnels leading visitors to utilize company offers. They provide guidance for opportunities to improve the overall experience. By creating a medium to analyze detailed metrics, the company can develop better services as well as provide innovative products that are trendy and long-lasting.
As you can see in the graph below, compared to other services, Google Analytics is used extensively by users around the world.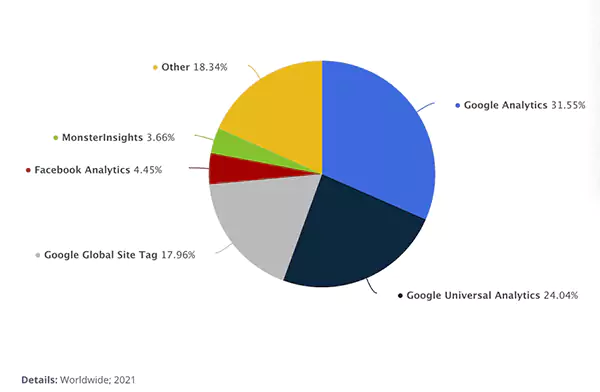 Optimize Website Content
Website copy is like a display that showcases a company's unique brand. Create a website that is attractive and useful. Using analytics helps perfect your content. Use A/B testing for copy, headlines, and visuals and find what your visitors like.
Google Search Console helps widely in perfecting website content. You can also check visitor searches and optimize keywords accordingly. You need to test and iterate using results.
Common Analytics Tools to Improve Your Website
There are many website analytics tools out there. But, here's my recommendation for a must-have:
Google Analytics is powerful. It shows site traffic and audience. Learn landing page effectiveness. Monitor conversions and more. The interface is user-friendly. Segmentation features are powerful.
With Google Analytics you can turn data into insights. Moreover, this will help in getting high returns from your web pages. It has features like tracking quantitative data, collecting event-based data from websites and apps, and integrating it with other marketing platform tools.
Clicky
Clicky shows live visitor data with complete metrics. You can check visitor sources, accessed pages, and more on it. The "Replay" section displays past click-by-click journeys that improve pages to increase conversions with these insights. Moreover, maintaining customer or user privacy is primary in Clicky. It is also a GDPR-complaint website tool which can be most useful.
Hotjar for Heatmaps
Hotjar understands visitor experiences with heatmaps and recordings. View visitor movements, struggles, and conversion funnels. Use insights to remove friction. Guide visitors towards conversions, just like adjusting store displays.
Hotjar also helps automate work to increase productivity and prioritizing specific tasks becomes seamless. Thus, it provides an efficient user experience that every customer requires.
Google Search Console, formerly Google Webmaster Tools, provides the site's online information. Learn about keywords driving traffic and top pages. Fix crawl errors, and improve mobile usability. Use insights for better SEO.
Google Optimize Tool
Google Optimize lets you test headlines, copy, layouts, visuals, and calls to action. See which options increase conversions. Make impactful changes with easy experimentation.
FAQ
Ans: Today's analytics platforms provide profound insights about your website. Understand visitor behavior, track the effectiveness of pages, and highlight any shortcomings. Such data guides you to make strategic improvements for better performance.
Ans: Just like training an athlete, your online site needs consistent effort to maintain peak performance. Regularly test changes using insights from your analytics. Implement proven effective elements. This continuous testing and implementation are key to a successful website.
Ans: Website optimization improves visitor experience, encourages more conversions, and boosts your online site's ranking in search engines. It makes your web pages more attractive and accessible, leading to increases in traffic, leads, and sales.
Ans: Yes, Google Search Console provides data on mobile usability. You can use these insights to tailor your website for an optimal mobile experience. This increases your web page's accessibility and potentially attracts more mobile users.
Ans: Both are equally relevant. Data collection gives you insight into what needs improvement. Testing allows you to experiment with different solutions. We suggest you gather data, test changes, and implement what works.
Final Thoughts
Your website is like a champion athlete who has to work 24*7. It needs constant work with consistent efficiency to stay on top. Using analytics should be your primary focus to make improvements according to changing market trends.
Collecting data is not enough but working on maintaining it by fulfilling specific demands of the customers. You should be ready to test and make changes. Just like your web page, use the design and metrics from online analysis that proves effective.
---