What is a Google People Card and How to Add Yourself to Google People Card
Do you want to know what is a Google Pay Card? This article will precisely answer this question. Google is a search engine and is known to serve users on the basis of search queries made by them. To achieve this, it uses several algorithms. With the passage of time, Google has evolved a lot and introduced Google's People Card. It facilitates people to build a virtual card using which an individual can have his/her identity and related information at the top of search results whenever searched. You can make use of keyword research tools for make your profile attractive and sound.
The methodology for creating the Google People Card has been provided in this article, along with additional details on its need and more related facts. 
What is Google People Card?
Google People Card or virtual visiting card is a kind of information module consisting of several details like personal, work-related, social media, website, etc. Earlier, this facility was bound to mobile users, and later on, it expanded to everyone. 
The main motive behind this was to allow the people card on the top of search results. So, in addition to related search results, people cards could also come to the top. And hence, increase the visibility of the people across the search result pages. Earlier it was called a profile card.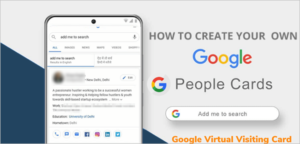 So, with the inception of these Google search cards, Google has declared to use an automated technique instead of adding a "flag" feature with them. With the help of this, there is no need of marking a flag on the card, if any card violates the content policy because all the information will be taken care of in an automated way. As a result, the most appropriate and correct information will be available on the search result pages and there will be no old and outdated way of reviewing the cards. 
Need Of Google People Card 
If you are thinking, why exactly is it required to opt for Google People Card, I would suggest, it is the most trending. Moreover, Google has a history of coming up with the box ideas for users two such examples are Google People Card, and Google Easter Eggs. 
And furthermore, let us understand it in brief with the help of a situational example.
Did you ever search for any famous personality? If yes, you might have seen that the details about them are available in abundance. And additionally, there are several dedicated information portals, giving a lot of knowledge about them. But whenever you search for the least famous person or not so much famous at all. 
Do you get the relevant information? The answer to this question is a big "NO". So, what should be done? Because there are so many entrepreneurs, freelancers, influencers, etc. who are least famous and are in the struggling phase of their careers and for them, it is essential to come upon the search result pages. So, for them, the only solution is Google People Card, as using this, users can highlight themselves on the top of search result pages, and eventually, it will aid their presence on the internet. 
Also, if you are a new businessman and do not have your own website or social media handle, do not worry as a Google People card can easily solve your problem. It is designed to help the upcoming business professionals who lack a digital presence and want to have it in a single shot.
Let's now dive into the bigger question of how to create a Google People Card or what you can say add me to search feature.
How to Create Google People Card?
Do you want to know the answer to how to add me to search? This section of the article will cater to your needs. After knowing enough details about the Google People card and its need. It is time to know how to create one for himself. So, let us start with the steps to create a people card or activate add me to search card feature.
Step 1: Firstly, open up the Google Chrome browser on the cellphone.
Step 2: Now, you are required to enter the keyword "add me to search" in the search box as shown below in the image.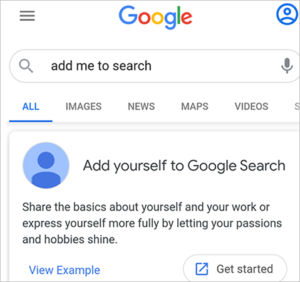 Step 3: Google will show you some results and click on "Get Started", as shown above in the photo.
Step 4: Now, it is time to log in to your Google account, if you have not.
Step 5: A new window will come up asking you to verify the phone number. So, enter the phone number and also select the country code from the dropdown, later on, choose the "Next" button. Get the idea from the below-mentioned image.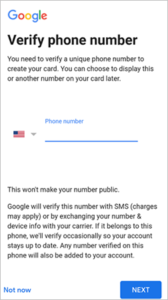 Step 6: Now, you can enter all the details one by one. You can add social media handles, website links, etc. Once it is done, click on the "preview button".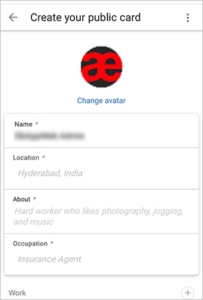 Step 7: If you are satisfied with the preview, you may proceed ahead and click on the "Save" button.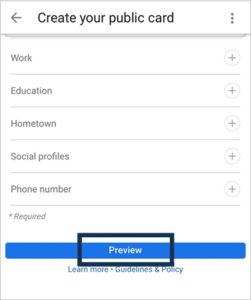 So, by following the above-mentioned steps, you may have the people card created or be able to activate add me to search feature successfully. If you are still not able to create a card for yourself, get the below-depicted requirements done before you start with the procedure, these are: 
Devices that are permissible for card creation are phones, tablets, iPhones, or iPad.

The browser used for this purpose should be either a mobile browser or Google Chrome. Here, Google Chrome is used.

A Google account is also needed.

The

"Web & App Activity"

feature should be turned on.
These are the basic instructions in order to add yourself to Google search. So, don't forget to go through them before beginning this process of Google search card generation.
How to Edit Google People Card?
If you have mistaken something in the card while entering the details, and now you are looking to modify it. Do not worry as the procedure to correct the entered information is given below.
Step 1: Take up your cell phone in hand.
Step 2: Open up the Google Chrome web browser on your cell phone.
Step 3: Log in to your Google Account by entering the correct credentials.
Step 4: Now, enter "Edit My People Card" in the search box of the web browser.
Step 5: You will see the edit option in the top right corner of the Google People Card, click on it.
Step 6: Now, all entered details will be shown on the screen, proofread and modify them.
Step 7: Once done with it, click on the "preview button" to check all the entered details.
Step 8: Now, in order to save the details, click on the "Save" button.
This is how you edit my people card. That's it. Now your Google People card has been modified and updated. So, soon enough you will get to see the updated card. Have patience. Don't you think adding yourself to Google search was way easier than 'edit my people card?' So, make sure you commit no mistakes.
How to Delete Google People Card from Search?
After creating the People Card, Now, if you are willing to remove it from Google search and do not want to continue with it. Follow the below steps
Step 1: Open up the Web browser on your smartphone and log in to your Google account.
Step 2: Type the keyword "Edit My People Card" in the search box.
Step 3: Go to the edit option of  "People Card."
Step 4: Once, the card details are opened up, scroll down and locate "Remove my search card from Google". Click on it.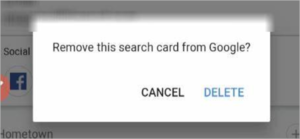 Step 5: Now, a confirmation pop-up will come up, confirm it and all your details will get deleted from the search engine.
This way, you will get the Google People Card deleted from the search engine. 
So, these were the details about Google Search Card and if you are a novice or have very little knowledge about it, you will find the information mentioned above in the passage useful. In addition to the creation of cards, its various segments like editing and deletion, etc. have also been covered.
Benefits of Google Search Card
There are many benefits of the 'add me to search' feature. Are you intrigued to know about it? Then all you need to do is set back and read through this section of the article. No one can deny that this card is loaded with benefits, all you have to see it through a clear vision.
It is one of the easiest and most simplified ways to brand yourself on search engines. Many budding bloggers and influencers use it for this purpose.

All the information you provide is protected by Google security personnel. 

Google Search Card can contribute to the acquisition of knowledge panels but is controlled by Google algorithm.

This card can in a nimble way update your professional information.

It helps in building connections and widening your networks.

One of the most advantageous natures of this card is that it fills your professional bag with many professional opportunities.

Through the "add me to search" feature, you can earn Google Certification. This can help you in earning some brownie points at a professional pace.

Earlier you have to carry cards for connecting with people, but this resolved this issue. All you can do is let interested people search for you on Google.



With so many listed benefits of it, what are you waiting for? Add yourself to Google search and be successful in your professional life.
How to Make Full Use of Google Search Card or Add Me To Search?
If you want to make yourself and your firm successful, make full utilization of add me to search. Want to know how to do it? All you need to do is go through these pointers which are specially crafted for you.
Make sure all the information your Google Search Card possess is crisp and up to date. This will make people locate you easily. For doing so, you can employ

types of propaganda used in advertising

.

You will have to ensure that your Google Search Card follows all community rules and does not go against the security protocols of Google.

Always keep in mind that upload your authentic picture as your profile picture. And do not use anyone else picture or any vague picture of any artist. And if you are already having it, make sure you edit my people card profile once you are done with this article.

It's a big no to vulgarity from Google so, never use double-meaning words with sexual denotations.

If you are someone who makes use of slang words, kindly avoid them.

Avoid taking a stand on anything, be a neutral person. Don't use the platform to advertise for yourself or your firm. These tactics could dent your profile.

Google Search might delete your Google Search card or index if you are inactive for a long time or have had no updates or changes in your profile.
These are some pointers that can help you to make full benefit of adding me to the Google search feature. So, don't forget these instructions in order to bloom your Google Search Card profile.
Conclusion
By now, you must be able to understand and apply the procedure of getting a Google Search Card. This could be a magical wand for you if you want to add yourself to Google search and become famous for your skills. In case you are a freelance developer or writer this can help you get freelance web developer clients.
This article has clearly defined the ways of opening a search card in the most nimble way possible. If you still have some questions to ask, you can comment down below. We will be happy to connect with you and resolve your issues.
Sources: