Top 10 Best Free Keyword Research Tools in 2023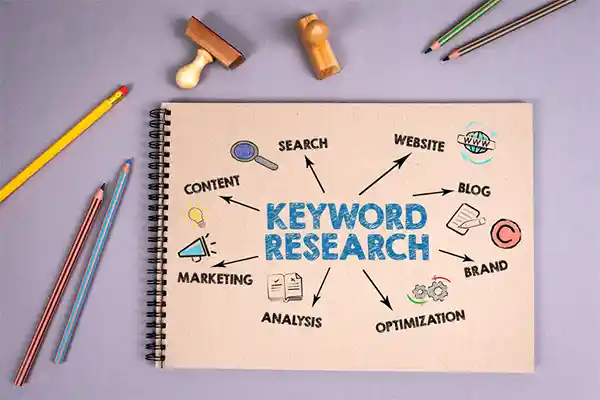 Keyword research tools are the best thing since sliced bread. It has incarnated as a blessing for SEO marketers and proved to be a wonderful affair to the cluster of strategists.
The fundamental motive behind research tools is to simplify and rationalize your workflow by serving you the right terms and data to incorporate into your content.
If you dive into the ocean of keyword research software, you will find yourself amidst the abundance of tools purposely built for keyword analysis. This eventually makes the quest of finding the best free keyword research tools more complex and perplexing.
And, as you may have heard 'Haste is Waste', any carelessness or negligence while choosing a suitable tool can be a perfect storm for you.
Fortunately, you have hit the nail on the head by landing on the right page.
In this brief and well-structured article, we have narrowed down the free keyword analysis tools that are as right as rain. From beginner-friendly to highly savvy, there is an option for everyone.
So, let's check out the top 10 best keyword research tools you can consider to empower your SEO strategy.
What Makes a Keyword Research Tool- The Best?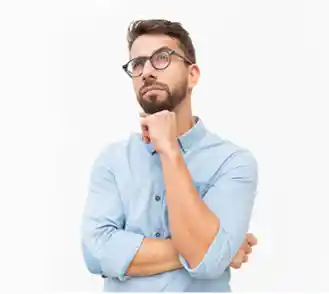 If you might be wondering what makes a keyword analysis engine the best- is it the compelling features? or the pricing? Well, there is more to know for you!
See, there are certain benchmarks that contribute to the episode called the best keyword evaluation tool. Amongst them, the biggest virtue that a research engine must possess is that it provides you with all data that you require to rank for your chosen keyword.
For your better understanding, here are the metrics on which we have compiled the list of best research keyword tools that are capable of gauging and maneuvering your SEO campaign.
Data: As we have stated above, it is imperative for a keyword research tool to serve you all the required details surrounding the term to rank on SERPS. All the respective tools we have added will provide you with all the fundamental data centering the keyword such as volume, traffic, related suggestions, keyword difficulty, etc.
Sources: It is crucial that the keyword data is accumulated from trust-driven sources as you blueprint your SEO strategy on that basis. The keyword research instruments we have included in this article stand tall on the perks of authenticity and reliability. They are free of any errors and malfunctions.
Easy-to-Use: The tools need to be simple and straightforward to use and that's what we kept steady in our mind while fabricating this list. Whether you are an SEO strategist or a business owner, employing the following tools will assist you in comprehending the target term and enhancing the site by leaps and bounds.
Pricing:  We, one hundred percent understand that not only do captivating features make the deal, but the tool also has to provide value for money. That's why we have enlisted only the budget-friendly tools that come with free plans and will not break the bank.
Top 10 Best Free Keyword Research Tools
As we have vowed above, here are the best free keyword research tools.
Employing these robust free tools will not only help you generate keyword ideas but assist you in what people are searching for, discovering trends and competition you encounter to rank for a certain keyword.
Ahrefs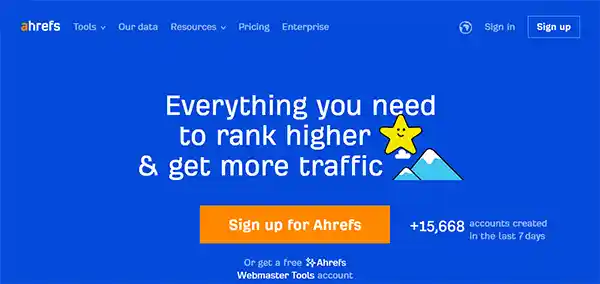 Ahrefs is an all-in-one SEO toolset that offers marketers and SEO campaign strategists a series of robust tools that enhance the whole campaign.
Here is the list of the Ahrefs SEO toolset that is curated for marketers that helps to scrutinize the vital dimensions of a website, get ranking and attain more traffic;
Site Explorer (Analyse your competitors)
Site Audit (Perform site audit)
Keyword Explorer (Search keywords your targeted audience looking for on the web)
Content Explorer (Explore content ideas and other link opportunities)
Rank Tracker (Monitor your Ranking Progress)
Why did we choose it?
Ahrefs convinced us to be on the list of the best keyword research tools with its captivating SEO toolset that it offers to marketers including the savvy keyword explorer tool.
It is also profoundly known for providing reliable data sources & metrics. Strategists across the globe have confidence in the Ahrefs SEO analysis as it pulls data from Google Analytics and Google Search Consoles.
Additionally, you aren't required to be an SEO maestro to use the popular keyword research tool. It is a tool that any business owner and marketer can access to comprehend their target keyword for optimal outcomes.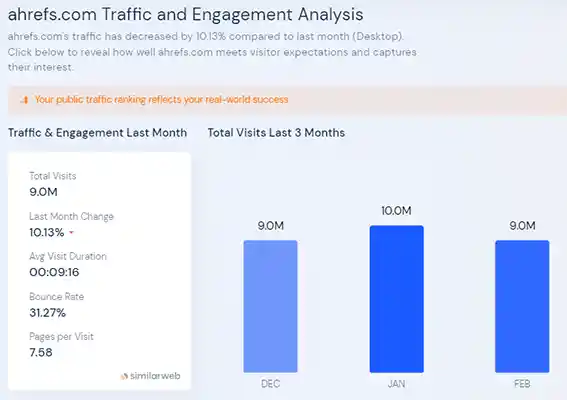 How does it function?
To use the Ahrefs SEO toolset, you are required to sign up for the Ahrefs and after that, you can throw your clicks on any tool.
For instance:- In the keyword explorer tool, we have searched for "Proper Way to Hold a Wine Glass"  and as you can see below a complete analysis of the phrase.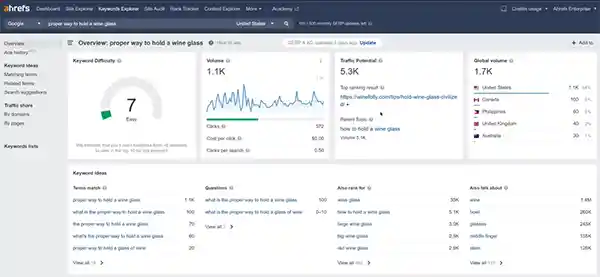 Pricing
| | |
| --- | --- |
| Monthly | Annually |
| Ashrefs monthly pricing ranges from the Lite package $99 (for small businesses and hobby projects) to Enterprise Package $999 (adequate for agencies and enterprises). | The annual billing of Ashrefs jogs from $83 to $833 varying the features it caters to. Assuming a yearly package will save you up a rainy day and offer you a 2-month free subscription. |
Moz Keyword Explorer

As they say ranking for the right keyword either makes or breaks a website's success, Moz Keyword Explorer perfectly walks along with that saying.
The respective SEO platform assists in adding, managing, and creating a keyword list seamlessly at a sole destination. It improves how you explore, prioritize, and compare keywords and phrases.
It is indeed one of the best free keyword research tools that mark all the checkpoints.
Why did we choose it?
Moz keyword explorer has been taken into consideration due to its comprehensive analysis surrounding the keyword and phrases.
It displays the monthly volume, difficulty, and organic CTR (clickthrough rate) of the keyword/phrase including the analysis of current results ranking and suggestions for similar keywords.
Moz also engages marketers with various intriguing features, spotlighting the Priority Score– a feature that briefs whether you have to assert your confidence in a keyword or not.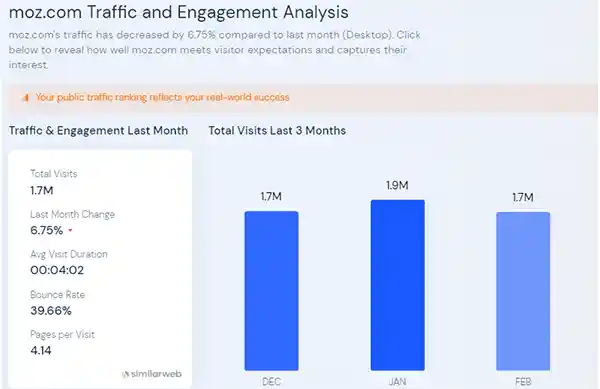 How does it function?
All you have to do is create a free MOZ account, insert the URL or keyword in the cited bar, and push the "Search keywords now" button.
Next, you will be able to acknowledge a complete analysis of the keyword or site.
Pricing
| | |
| --- | --- |
| Monthly | Yearly |
| Moz monthly subscription accelerates from &99/month (Standard package) to $599 /month (Premium package). | Subscribing for the yearly packages will save 20% on the respective packages. Your Moz package will now commence from  $79/month to $479/month. |
Question DB

In the cosmos of keyword analysis engines, we also become acquainted with Question DB. This is a tool that I highly recommend to gain traction in the SERPs.
Question DB is widely considered one of the eminent tools for finding question-based keywords. Using the intuitive keyword research tool, you can simplify and streamline your workflow.
Why did we choose it?
Sourcing! Question DB's biggest flex is its sourcing capabilities. It scrapes the whole web for you and narrows down the questions that users are asking in the vicinity of the keyword.
Comparatively to other existing keyword research tools in the market, it not only pulls questions-based keywords from Google and Bing but, it significantly involves sites such as Reddit, Quora, and Stack Exchange.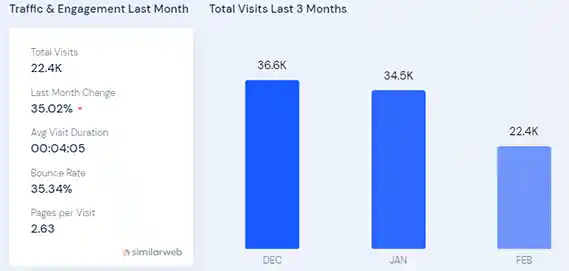 How does it function?
Simply, insert a board keyword or phrase into the given blank and it will showcase the corresponding questions that people search on the web.
For Instance: If you are a travel content creator, you can search for the best places to visit in Japan and you can see what people are searching for in the context of the keyword.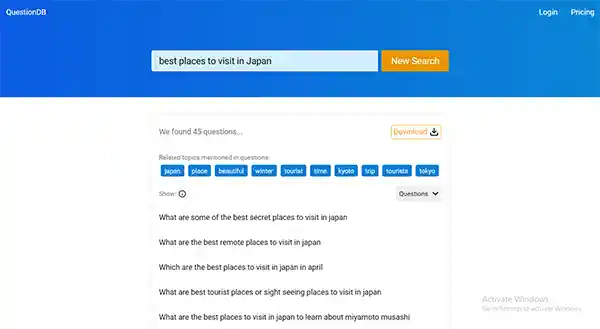 Pricing 
| | |
| --- | --- |
| Monthly Billing | Annual Billing |
| Question DB monthly billing commences from $0/50 searches to $50/5000 searches per month. | Annual Billing of Question DB offers $0/50 searches to $41/5000 searches per month. |
Keyword Surfer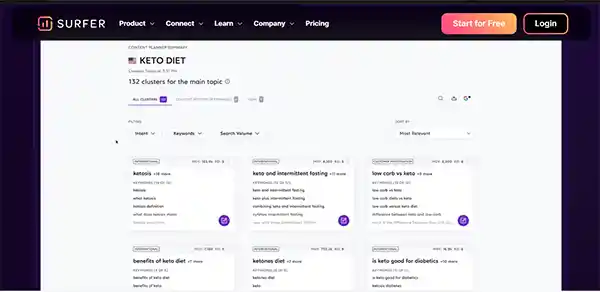 Keyword Surfer is another SEO-analytical tool that will make sure that the ball remains in your court. It is basically a Google Chrome extension by Surfer SEO curated for lightweight keyword research.
This Chrome browser extension is an isolated tool that provides limited features of the platform for free and is not a complete SEO suite.
However, if you go for the complete Surfer SEO app, you will be able to assume full Content Editor counting in WordPress and Google Docs extensions as well.
It will also showcase the overall "Content Score" and suggestions surrounding the heading, paragraphs, and images to add.
Why did we choose it?
The biggest virtue of the Keyword Surfer is that it showcases the results of targeting keywords without leaving the SERP.
It is also one of the leanest SEO tools that we have tested in the quest for the best free keyword research software.
Keyword Surfer pricing is also budget-friendly and will not cost you an arm and leg.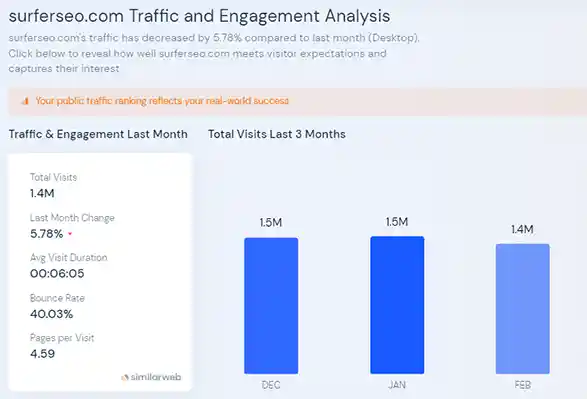 How does it function?
To make the Surfer function, simply head to the "Surfer Web Page" and add the respective extension.
Next, click on the "Add to Chrome" Button and add the extension.
Now, redirect to Google, and perform a routine Google search for the keyword.
Next, you will notice the estimated search volume and CPC data in the search bar.
On the right, you can see keyword ideas, % of search results shared with the respective keyword, and the estimated monthly search volume.
Pricing
| | |
| --- | --- |
| Monthly: | Annually: |
| The basic edition of the Keyword Surfer starts from $59/month (for small businesses, owners, bloggers, and freelancers; limited SEO needs) to $239/month (suitable for large organizations). | Paying annually can get you 17% off on the packages. The basic edition will cost you $49/month onwards. |
Semrush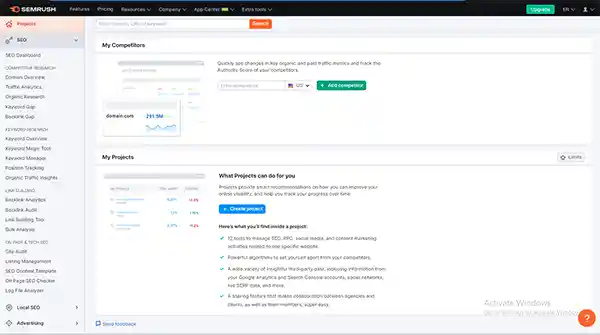 Make the room! As one of the biggest SEO giants and the best free keyword tool for advanced SEO is here!
Semrush is a granger SEO platform that is capable of granular analysis of the current results. Semrush Keyword Magic Tool allows users to access over 20 billion keywords across 120 geographical databases.
Keyword Overview, Keyword Magic Tool, Keyword Manager, Position Tracking, and Organic Traffic insights are the gamut of tools you can employ for effective SEO practices.
Why did we choose it?
Semrush is the powerhouse of potent tools and the range is what sets it apart from the competition.
Complying with the SEO toolset, it also offers an SEO content template that generates a content brief and optimizes the content in real-time marking readability, authenticity, tone, and SEO checkpoints.
Additionally, the respective tool visually acknowledges the SEO recommendations, for instance: using your target keyword, and inserting resonating links and images.
The free tool reports provide monthly search volume, competitive density, and keyword difficulty.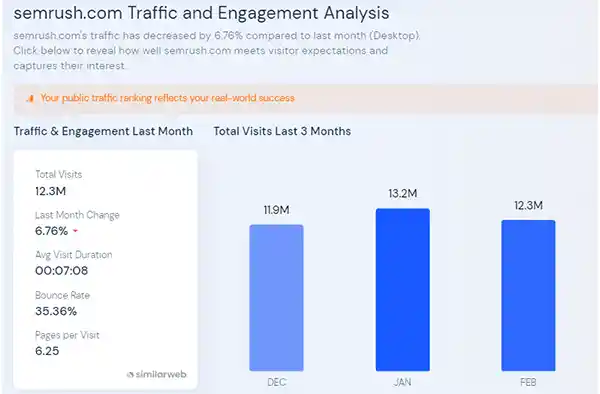 How does it function?
To operate Semrush's free keyword research tools, the only chore you have to perform is to create an account and select Skip Trial.
The window of paid service is always open for you, simply sign up and strategize a strong SEO campaign.
Pricing
| | |
| --- | --- |
| Monthly: | Annually:  |
| The monthly billing of Semrush initiates from $119.95 (Pro version) to $499.95 (Business version). | Semrush's yearly plan promises up to 17% savings on the plans. Upgrading to yearly plans will cost the Pro version $99.95 monthly and the Business version $374.95 monthly. |
Google Keyword Planner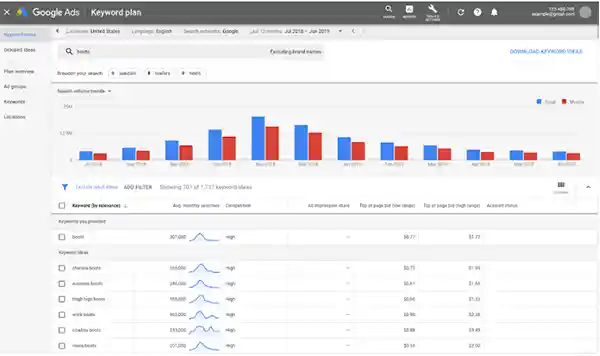 Looking for a PPC keyword tool that will craft keyword ideas as well as accumulate other corresponding information such as monthly search volume, ad impression share, change over time, competition, and bid range?
If yes then, your quest has come to an end!
Google Keyword Planner offers exactly what you are looking for! It is a completely free tool that functions on two significant features;
For Extensive Research on Search Volume and Forecasting
Why did we choose it?
We have chosen the Google Keyword Planner as it is the best free keyword research tool for paid keywords. Using this free tool, you are authorized to sort your list by brands and non-brands keywords, the source website, and more.
Another explanation behind considering Google Keyword Planner is it can apprise you about your organic strategy as well. It displays where ranking naturally aids you in saving PPC costs and if you opt for Google Ads, the intuitive "Forecast" feature facilitates your paid ads and budget in advance.
Also Read: 15 Common Reasons Why You are Encountering Google Ads Disapproved Error
The respective tool might not stand tall when compared to the premium options cited in the list. Albeit, being 100% free, it is worth taking into consideration in any keyword research toolbox.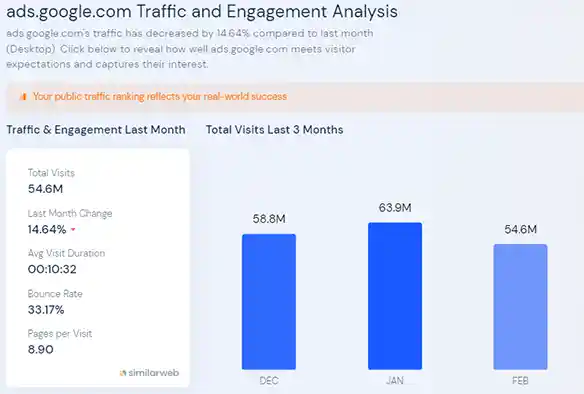 How does it function?
To use the tool, simply place the keyword in the given blank. For instance: we have searched for "meal delivery" and you can see avg. monthly searches, ad impressions, page bids, and more.
Pricing
With this incredible and efficient tool, you do not have to engage in limits or costly upgrades as Google Keyword Planner is absolutely free of cost for the users even if they do not purchase Google Ads.
Also Read: How To Get Your Site To Rank On The First Page Of Google In 2023
SEO Powersuite

SEO Powersuite is a prime example of a top-notch free keyword research software that platters a complete toolkit to refine and elevate on and off-page SEO.
Akin to other SEO platforms, using the SEO Powersuite keyword research engine, you can easily get through high-performing keywords, keyword difficulty, click-through rates, local keyword rankings, and monitor adversaries' content.
Why did we choose it?
We have integrated this savvy all-in-one SEO platform because the respective research engine has the caliber to perform and complete comprehensive keyword research.
It is jacked with 24 robust keyword-finding tools including 7 methods of research and assists users to explore the most popular keyword terms, accurate keyword data, and cross-platform functioning.
Most importantly, it brings real value to the money.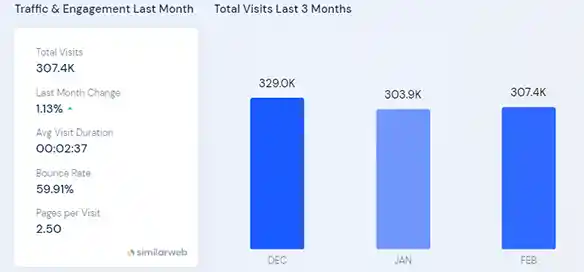 How does it function?
You can download the all-in-one keyword research tool simply by providing your name & email and to analyze any link, insert the link to the website.
The captivating software will showcase to you the list of the most influencing keywords on your adversaries' sites.
Pricing
SEO Powersuite offers yearly license plans categorized into three visions as per the features:
You can also save up to 20% and 34% on the 2-year plan and 3-year plan respectively as per your pocket allowance.
Google Trends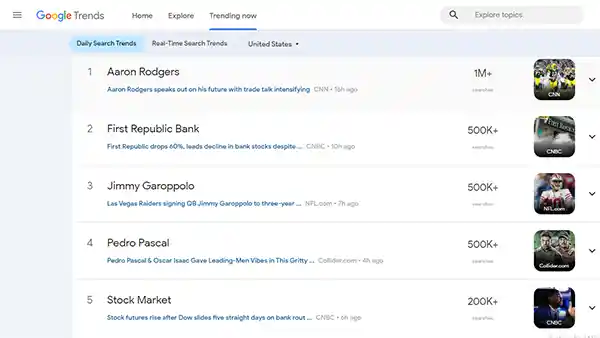 Everyone wants to rank on the world's biggest and most popular search engines' first page, so why don't motor keyword-based ideas from Google itself?
Puzzled? Let us simplify for you!
Introducing Google Trends– a highly reliable free tool that displays what people are searching in Google's search engines including Search, News, or Youtube.
This powerful and effective tool can skyrocket your SEO strategy and help you find a place in the sun.
Using Trends, you can simply search for a term and acquire all the corresponding data to lightbulb new keyword ideas and comprehend extensively what people are searching for!
Why did we choose it?
First things first, Google sources and metrics are very precise and authentic.
Secondly, what attracted us the most is its intuitive & super-friendly user interface. You can search terms as many times as you can, there is no limitation.
You can also click on the "Trending Now" tab, get detailed insights into daily search trends & real-time search trends, and see what's the trending topic in regions across the globe.
The best part is Google Trends is accessible to anyone and is completely free of cost.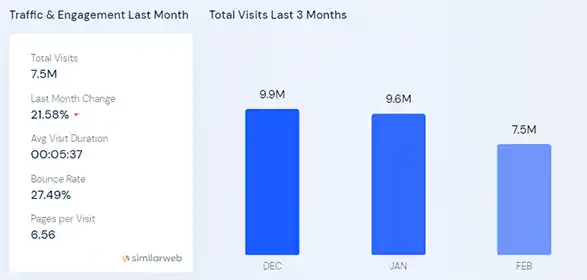 How does it function?
Simply search for the term and on the search results page, it will display the following;
Interest over time (In graphical representation)
Interest by sub-region (sub-region and city)
Related Topics (rising and top)
Related Queries (rising and top)
It also allows you to compare the terms and help you distinguish between the terms and identify the elevating and losing momentum keywords.
You can also change region, duration, categories, and Google platform.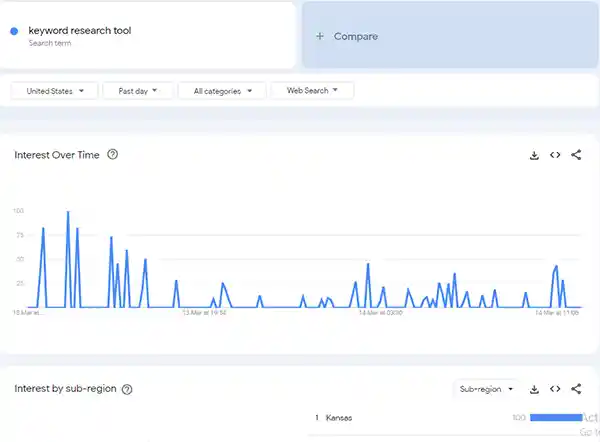 Pricing
Google Trends is a pocket-friendly tool, you can search for a day without spending a single dime.
You might also like reading: Why and How to Get Ranked in Google's People Also Ask Box; A Foolproof Guide
AnswerThePublic

Get instant and raw search insights on your requested keyword or phrase and establish a direct line to your audiences' minds with AnswerThePublic.
Using this vigorous tool, you can provoke new keyword ideas and analysis what your targeted audience is searching for in a captivating graphic display.
Why did we choose it?
AnswerThePublic not only shows the range of questions people are asking on the web surrounding the keyword/phrase but also displays the data search volume, search difficulty, CPC, and paid difficulty for better keyword analysis.
This powerful tool also authorizes the users to download the data as a graph or a list including the options such as "Add to Project" and "Share".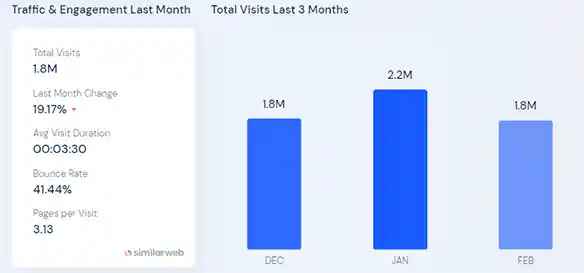 How does it function?
Simply, insert a topic, brand, or product name in the given blank, select the location and it will display the search results well sorted in the following categories;
Acknowledge the below-cited image to get a better insight of how AnswerThePublic functions.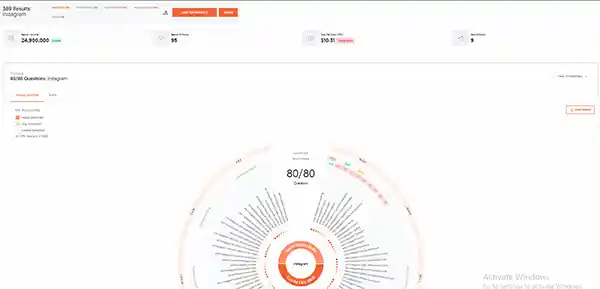 Pricing
| | |
| --- | --- |
| Monthly  | Annually  |
| AnswerThePublic Individual plan pricing starts from $9 USD/month, Pro @ $99 USD/Month to Expert plan @ $199 USD/month. | The annual package of AnswerThePublic promises the Individual plan @ $99 USD/lifetime and $79 & $149 for the Pro & Expert plan respectively. |
Jaaxy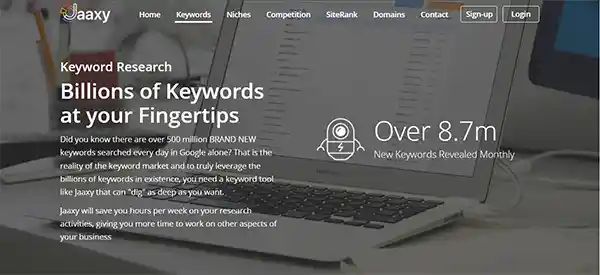 Last but not least, Jaaxy is here to provide you with a competitive edge, promising over 500 million untouched search terms searched every day, you can elevate your SEO and PPC campaigns to Everest.
It also acquaints users with a plethora of niches online consisting of ones with the confined competition. Tools such as Brainstorm, Affiliate Research, and Alphabet Soup platforms will deliver you insights of never exposed niches.
Why did we choose it?
Jaxxy scrapes and pulls data from all 3 paramount search engines profoundly known as Google, Yahoo, and Bing. Using this stellar tool, you can search the affiliate programs to join and feature on the site.
You can also Jaaxys' robust tools to spy on your competitors and scrutinize what elements are giving them an edge. Get insightful data in your hands such as the website's content structure, meta tags, backlinks, content quality/length, placement, etc.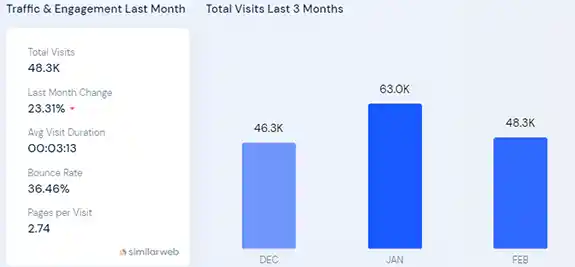 How does it function?
Jaaxy caters to a pretty simple and straightforward functioning; simply kick in the topic, keyword, or URL and it will serve all the surrounding information for the inserted keyword.
Join Affiliate Program: Simply, head to the Affiliate Programs tab, insert the keyword, and boom! A list of affiliate programs powered by Commission junction, Link share, Digital River, and ClickBank will appear on your screen.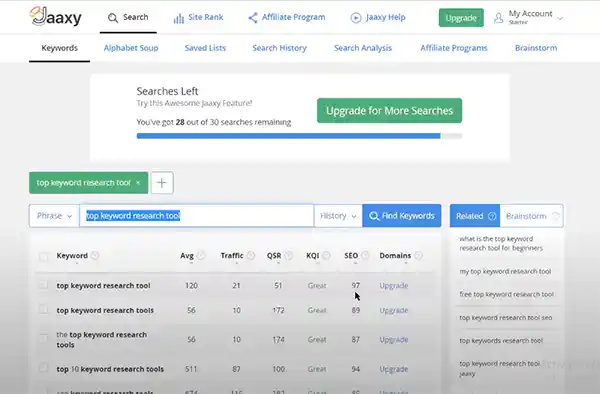 Pricing
The starter pack of Jaaxy offers 30 keyword searches and 20 search results including a keyword list manager, 30 site rank analysis scans, a website analyzer, and more.
On the other hand, the Pro & Enterprise membership starts from $49/month & $99/month respectively.
The Takeaway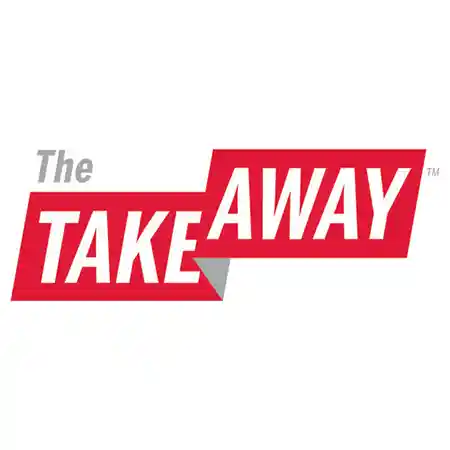 Employing keyword research tools is a rightful decision when it comes to comprehending the target keyword and corresponding data to rank on them.
They help you trigger keyword ideas, how actively netizens use a search term, recognize trends, and the competition you have to face to rank for a certain phrase.
And, as we have illustrated in the beginning, there are dozens of research engines available in the market curated for keyword analysis, and choosing the one that rides along with your expectations can be arduous.
Nevertheless, scrutinizing the array of tools we have provided in this article will help you understand how research machines function and which is the one for you!
Now, let's check out some frequently asked questions centering keyword research tools.
Frequently Asked Questions (FAQs)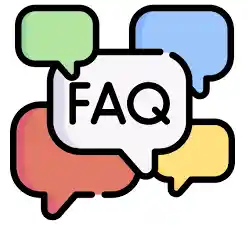 Ans: To know the best keyword research tool, you must analyze the purpose and needs you are looking for in research. For instance: For comprehensive keyword analysis, you can consider Ahref, Semrush, and Keyword Surfer. On the other hand, for question-based keywords, Question DB and AnswerThePublic can be your option.
Ans: You can use Ahrefs, Keyword Planner, and Google Trends to generate an abundance of relevant ideas for your Youtube videos.
Ans: Ahrefs, Amazon Keyword Tool, Google Keyword Planner, Seller App and Keyword Inspector are counted as the best tool for Amazon Keyword research
Worth Glancing: