List of Top 12 Best Web Hosting Providers for Small Businesses
Choosing the best web hosting for small businesses is essential to establishing your company's online presence. The effectiveness of your website will determine how successful your internet business is. The type of web hosting provider and service you select for your small business will thus make a huge impact.
However, selecting the finest web hosting services might seem like a daunting endeavor with so many web providers to choose from. If you pick the wrong one, you'll have slow load times and frequent downtimes.
Nevertheless, we have analyzed the top web hosting companies with small business-friendly plans to aid in your decision-making. 
The following write-up will walk you through the features, benefits, and drawbacks of the top twelve web hosts for small businesses. Each of the web hosts listed below has been rated according to a number of criteria, such as uptime guarantee, cost, features, and the overall performance delivered.
So without talking much, let's start with our top twelve web hosting providers for small businesses:
One of the greatest hosting options for small businesses is Hostinger. It is user-friendly and has fantastic functionality for businesses. Moreover, in addition to offering very substantial resources at very affordable pricing, the host also places a high priority on performance.
With monthly costs of as little as $3.99, it's understandable why Hostinger is a popular choice for businesses that are just starting to bloom. The best part is that Hostinger does not scrimp on quality to keep costs down, which you can know by yourself when going through the further section of features provided by this one of the best small business servers.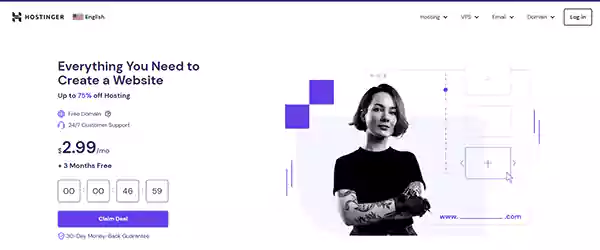 Features
With regular upgrades to hardware and software, Hostinger maintains its technological edge, resulting in dependable and quick performance. Moreover, the most recent PHP versions are accessible, along with features like the LiteSpeed web server and pre-configured caching.

Hostinger provides impressive customer support that works via three different means: A ticketing system, emails, and 24/7 live chat. Therefore, you can be confident that any issue you could have with your small business hosting service will be resolved by competent personnel at all times.

Navigating through Hostinger and utilizing its services is quite simple. The hosting provider furnishes users with a very intuitive cPanel, a very user-friendly and straightforward custom control panel. This panel allows you to control everything from your service billing to control all your website-related features.

Hostinger gives you a choice of 7 data center locations if you have an international customer base. You have the choice of the United States, the United Kingdom, Lithuania, Singapore, Netherlands, Brazil, or Indonesia. Furthermore, servers offer a 100% uptime, with an average response time of 511 ms, all this with the loading time of a fully built website just being 0.8s.
Pricing
Hostinger provides various plans for web hosting. Since we are looking for the best web hosting for small businesses, we have listed below the hosting pricing Hostinger provides for professionals. Listed here are these:
Business Web Hosting ($3.99/month) – Optimized for small and medium businesses

Cloud Startup ($9.99/month) – Optimized for business and eCommerce websites

Cloud Professional – Optimized for scaling business and eCommerce websites
 Pros & Cons
PROS
CONS

Business hosting starts at just $3.99/month

Free SSL, SSD Storage & Weekly backups.

24/7 customer support

Intuitive control panel that is effortless to navigate through and use.

Servers located around the world that offer LiteSpeed.

Regular software and hardware updates.

In order to get the lowest pricing, 4 years of prepayment is required.
All things considered, Hostinger offers the best small-business web hosting at a low price. It has speed, dependability, functionality, and ease of use at a reasonable price.
A high-end, effective option for small businesses wishing to go online is a WP Engine web hosting provider. The supplier offers robust security, fantastic dependability, and practical features for your company. However, it is specifically for hosting WordPress websites.
Nevertheless, the host has built its reputation over the years by offering incredibly dependable and blazingly fast WordPress hosting that is ideal for everyone from a novice to a web developer.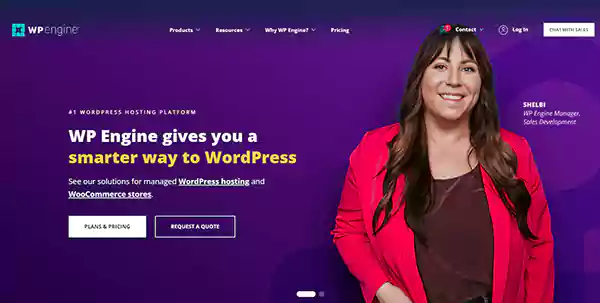 What to know more about WP Engine features? Go through the further section:
Features
The host provides a lot of useful tools for business. Development, staging, and production environments are included with the various hosting plans of WP Engine. You may create, test, and make any new updates to your company website safely using these.

Amazing business-oriented performance is a strong suit of WP Engine. To start, it has more than 20 data center locations worldwide, which includes various US areas, Europe, Australia, Canada, and Asia. 

Moreover, the host employs quick Google Cloud and Amazon servers, has a free CDN to decrease the website's loading time, and offers a variety of other performance-enhancing options.

With all of its plans, WP Engine provides both fundamental features like an SSL, along with more advanced and sophisticated ones like server monitoring, proprietary firewalls, and automated and manual backups with up to 40 backup points. Thus, making it a robust security gear provider.

WP Engine has impressive customer support.  The greatest part is that you may contact them in a variety of ways, including an email address, a phone line, a live chat service that is available 24/7, and a large resource center. The support staff at WP Engine is kind, competent, and courteous.
Pricing
In order to get an idea about the pricing of plans offered by WP Engine to choose the best web hosting for your small business, you can refer below:
Startup Plan ($20/month)

Professional Plan ($40/month)

Growth Plan ($77/month)

Scale Plan ($194/month)
Also, the supplier provides a 60-day money-back guarantee, which is twice as long as the industry norm.
Pros & Cons
PROS
CONS

A lot of optimized features for enhancing performance and security.

20 data centers located around the world that provide better response time.

Easy to use user interface.

Free SSL, CDN, and custom staging and caching.

Prices are on the higher end as compared to other competitors

Exclusively for WordPress-based websites.
WP Engine might ultimately be one of the finest investments you make for your company. The host is best suited for rapidly expanding small enterprises that sell products online or for companies that create websites for customers.
Bluehost is another web hosting option that is well-liked by small businesses, which is perhaps one of the biggest names in the sector. Plans that are fairly priced and offer a range of business-oriented services are some of the features that primarily make the small business web hosting provider so alluring.

Features
Web hosting plans that are offered by Bluehost are well-rounded and contain a lot of services. Each plan includes fantastic business tools like Google AdWords and Google My Business. Furthermore, an SSL certificate, a staging space, and a free custom domain are included with each of the provider's web hosting plans. 

Even newbie users will find Bluehost's setup procedure and interface to be intuitive, effortless, and understandable, making it well-suited for beginners. And, of course, web hosting from Bluehost comes with an easy-to-use cPanel.

The host provides excellent client service, with a 24/7 live chat support system and phone help from Bluehost's customer service representatives. It also provides a subscription service called Blue Sky, a premium customer help alternative if the standard support is insufficient. However, you can also search via a vast information base to get the solution you need.

The host only provides data centers in the US. Hence the optimum site load times will also be found there. Also, even if there isn't a formal uptime guarantee, Bluehost demonstrates a very dependable and quick performance. Its servers offer 361ms of response time and have a loading time of 1.8s of a completely developed website.
Pricing
Bluehost being one of the best web hosting providers for small businesses, provides 4 shared hosting plans starting at $2.95 per month, which are stated below:
Basic ($2.95/month) – For one blog or website

Choice Plus ($5.45/month) – Basic plan + Enhances security and privacy

Online Store ($9.95/month) – Can create a website for selling products online

Pro ($13.95/month) – Optimized web resources
Additionally, the host offers a number of different reasonably priced scalability choices like VPS or dedicated servers, with plans starting at $19.99/month and $ 79.99/month, respectively
Pros & Cons
PROS
CONS

Hosting plan comes with Free SSL and domain.

Effortless process to set up the website.

Built-in tools useful in business expansion and marketing.

Easy to navigate dashboard.

cPanel that comes in handy.

Bluehost doesn't provide any uptime guarantee.

Servers being only in the US, can increase response time when accessing the website from across the world.
When it comes to overall user experience, Bluehost wins since it is one of the most practical and beginner-friendly hosts available. This is the host you need if you want to handle your website more easily.
Popular small business web hosting service HostGator is renowned for providing all the necessities at reasonable rates. Several company owners find its simplicity of usage appealing and believe that this server is a fantastic choice, especially for new users.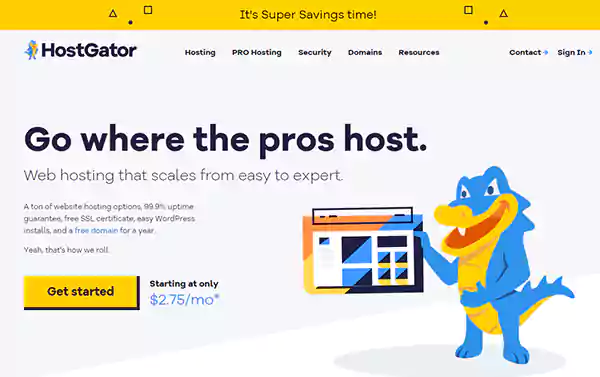 The following are some of the primary HostGator features:
 Features
The required setup and maintenance procedures, such as website migration, CMS installation, and plugin management, have been optimized and simplified by this one of the best web hostings for small businesses providers. 

A free website builder that lets you create websites with up to 6 pages is included for free with each HostGator plan. This website builder makes it simple and quick for beginners to set up and prepare their business website and helps in

keeping the website's blog page up to date

.

Additionally, you receive a conventional cPanel for all administration duties as well as a very user-friendly native user interface.

HostGator provides dependable and quick performance. But, keep in mind that all of its servers are in the US, therefore the host will work for you if the majority of your customers are in the US.

The host provides phone and live chat customer support service around-the-clock. The support personnel are helpful and courteous, and they respond quickly. In addition, there is an ample knowledge base that offers both written materials and video tutorials to overcome any difficulty you are facing.
Pricing
All the essentials, including a free SSL, custom domain, email accounts, and unlimited storage are included with HostGator with all the packages, which are as follows:
Hatchling ($2.75/month)

Baby ($3.50/month)

Business ($5.25/month)
Pros & Cons
PROS
CONS

Website builder that lets you build a six-page website for free.

Free custom domain, email accounts, SSL, and unlimited storage.

Almost all plans are available at a very affordable cost.

Interactive and easy-to-use interface along with an intuitive cPanel.

Clear boundaries are not described for the resources that are claimed to be unlimited.

Servers are only present in the US.
In close, HostGator is a fantastic choice for small business web hosting for individuals who are new to hosting. Particularly in light of its low entrance barrier, extensive resources, high performance, and simplicity of use.
DreamHost is incredibly popular among company owners and those in the hosting sector. It provides some of the more affordable choices for hosting for a year or on a monthly basis. Along with this, the host provides exceptional performance and is simple to utilize, especially with WordPress websites.

Features
Simplicity and user-friendliness are the two most prioritized features of DreamHost. The host offers a highly user-friendly and well-organized native user interface that enables you to control all aspects of your company website from a single location.

A free custom domain, automated upgrades, an SSL, and many other helpful features are included together with a substantial amount of server resources, even in the cheapest web hosting business plans of DreamHost. 

In addition to automated daily backups, free Let's Encrypt SSL, domain privacy protection, Cloudflare CDN, and Mod security, DreamHost provides comprehensive and robust security measures with its web hosting business plans.

Further, this web hosting provider offers BoldGrid, a useful drag-and-drop WordPress website builder, if you prefer to use WordPress for website management.

First off, DreamHost only provides servers in the US. It is therefore most appropriate for businesses that mostly have operations in the US. Nevertheless, with the best server for small businesses, you can still anticipate a fairly quick performance, as it has an average response time of just 321ms. 

Additionally, the server offers a very uncommon 100% uptime guarantee.

There are several customer care alternatives available with DreamHost, including phone assistance, live chat, which is available from 5:30 AM to 9:30 PM PT), and 24/7 email tickets. Also, you can search its knowledge base or lively community forum for more information.
Pricing
DreamHost offers a substantial 97-day money-back guarantee, on all its plans which are as follows:
Starter ($2.95/month) – When starting a new website.

DreamPress ($16.95/month) – Business-oriented, hassle-free, and high performance

VPS ($13.75/month) – For small websites on Virtual Private Servers
Pros & Cons
PROS
CONS

WordPress website builder is included in the plans.

Very much affordable pricing compared to competitors.

Various tools to build a website effortlessly.

Free SSL, domain, auto-backup

Provides enhanced security features

Basic plan of DreamHost doesn't contain emails.

Servers are only located in the US.
Overall, DreamHost is one of the better solutions available. It provides features that make building websites simpler, including speed, dependability, and convenience of use.
A2 Hosting is one of the best website hosting for small businesses. It is the optimal host to choose if you're looking for performance-driven web hosting for your company, as it is highly performance-oriented, admiringly secure and prioritizes simplicity. Stated further are the key benefits of A2 Hosting.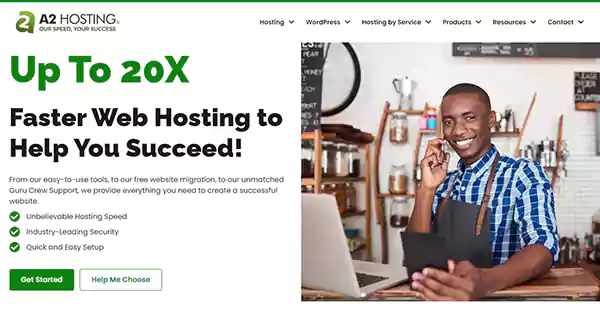 Features
By providing a traditional cPanel, which is highly reflexive but powerful and versatile for easy daily business site maintenance, A2 Hosting makes administrative jobs simpler.

Your company website will be kept secure by A2 Hosting's dependable security measures. Advanced technologies like 24/7 active malware protection, virus scan, auto-heal protection, dual firewall, and many more are added on top of standard services like free DDoS protection, SSL, and scheduled backups.

The various performance-improving tools offered by A2 Hosting, including optimized Turbo plans, A2 Optimized, which is a plugin for customizing and controlling caching, and Anycast DNS, are its most well-known assets. 

Furthermore, with its servers located in three regions across the world, you have the option of hosting your website in the US, Europe, or Asia, which offers you an average response time of 597 ms. This takes the website's loading time to only 1.4s.

There are many different support options available from A2 Hosting's excellent customer support service. Its customer service representatives are available by phone, live chat, or ticket submission. An ample information resource is also available at your disposal.
Pricing
There are four shared hosting packages that may be suitable for small businesses, which are stated below:
Startup ($2.99/month)

Drive ($.99/month)

Turbo Boost ($.99/month)

Turbo Max ($1.99/month). 
Furthermore, A2 offers a number of other web hosting categories like VPS, dedicated, reseller, cPanel, Email, and Turbo. Out of which, you can choose any according to your business.
Additionally, the host comes with a 30-day money-back promise in addition to an anytime money-back guarantee that entitles customers to a prorated return for any unused subscription.
Pros & Cons
PROS
CONS

cPanel has a very easy-to-use hosting management user interface.

Servers are located at three different locations, bringing the response time lower.

Offer business web hosting plans that are primarily focused on performance and security.

Free domain is not included along with various hosting plans.

All the web hosting plans are not well-rounded and don't add much value with increased cost.
A2 Hosting is a choice for hosting a company website on a quick and dependable traditional host. You will have access to cPanel, another industry standard with A2's web hosting business plans.
If you have a website for a small business, HostPapa is among the top providers to get web hosting. They provide reseller hosting, WordPress hosting, and VPS hosting.
Go through the next section to dive deep into the features offered by HostPapa:
Features
 If you're searching for web hosting for your business, the shared hosting options are quite affordable. Storage in the VPS storage packages is available in sizes from 50 GB SSD to 200 GB SSD.

You may use HostPapa to obtain bandwidth ranging from 500 GB to 1.4 TB. They offer a 30-day money-back guarantee.

HostPapa has worldwide coverage. Cloudflare CDN Services are included with all hosting services. Wherever a user views your site, a CDN will guarantee that the content loads quickly.

Excellent customer service is another strong pursuit of this host. Live chat is available 24 hours a day to connect with the support staff. Also, they offer an excellent knowledge base with video training.

For the first year of service, HostPapa provides free domain registration. Free SSL certificates with encryption are available. For Premium Wildcard certificates, you will need to pay.

Daily site backups are taken to ensure the safety of your data. 1GB of backup space is included with the most basic plans.
Pricing
Listed below are the four web hosting plans offered by Host Papa, that will be suitable to launch your business website:
Start ($2.95/month) – Perfect for getting basic websites or blogs online.

Plus ($5.95/month) – Ideal for small business owners who are just starting out.

Pro ($5.95/month) – The best choice for growing businesses.

Ultra ($12.95) – More power, performance, and speed – with enhanced security.
Pros & Cons
PROS
CONS

Reliable servers and technology.

Optimized performance and enhanced security to give you the best output.

Free custom domain, unlimited disk space, and unmetered bandwidth.

Servers are located only in the North American region, which may increase the response time for international customers.

Customer support is not very efficient.
HostPapa offers a fantastic service if you get past the murky pricing, which doesn't make the best first impression. They provide a 30-day money-back promise and offer cheap web hosting.
For websites focused on small to medium-sized businesses, ScalaHosting provides adaptable and cost-effective cloud hosting plans. The host provides plenty of server resources and fast speeds. Additionally, despite the fact that this product is still relatively new, the host is ready to assist you in quickly creating a strong website for your business.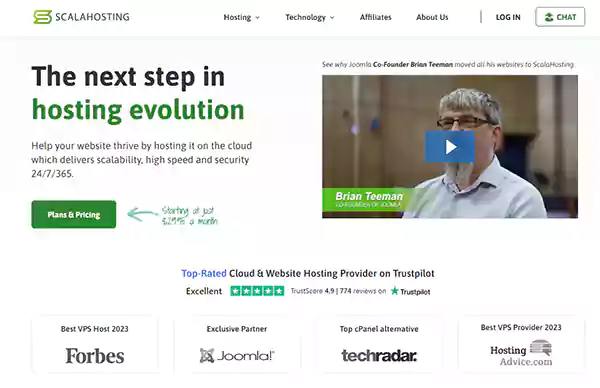 Interesting. Isn't it? The following factors make ScalaHosting appropriate for websites run by small businesses:
Features
Most of the web hosting business plans offered by ScalaHosting are filled with resources to help grow your business. All of its cloud hosting plans provide everything you need to build a business website, including a free SSL, custom domain, 50GB storage, WordPress staging and cloning, CDN, cPanel, unlimited email accounts, and unrestricted bandwidth. Also, you can choose between a shared and a dedicated environment, based on your business needs.

Virus and spam protection, SShield security, free security checks, daily automated backups, and brute-force protection, are the features included in all cloud solutions, regardless of the package you select.

Using a ticketing system and live chat that is available around the clock, the host provides quick and competent customer support service. Even more formally, ScalaHosting guarantees a live chat response time of no more than 30 seconds and a ticket response time of no more than 15 minutes.

In terms of performance, ScalaHosting delivered outstanding results. The host had zero outages during the testing phase and maintained a very quick average response time, which is 443 ms. Furthermore, you have a choice of data centers in the EU or the US.
Pricing
Stated below is the pricing of various plans offered by ScalaHosting:
Mini (&2.95/month)

Start ($5.95/month)

Advanced ($9.95/month)

Entry Cloud ($14.95/month)
Pros & Cons
PROS
CONS

Data Centers are available in major continents.

Advanced and completely packed security system, with various useful tools.

Affordable web hosting plans for small businesses.

Cost-free custom domain, regular backups, SSL, & real-time malware protection.

The cheapest plan offers a shared environment.

Basic plan doesn't include the firewall feature.
All in all, ScalaHosting is a fantastic choice for more experienced users that want to manage microsites with eCommerce features. The host demonstrates that it is safe and adaptable, and offers features to scale when necessary.
If you're ready to spend money on your web hosting, SiteGround is among the top web hosting providers available and is the best choice for your business. The service provider's WordPress-specific plans come with a ton of business performance and security-related capabilities. The icing on the cake is just how simple it is to use.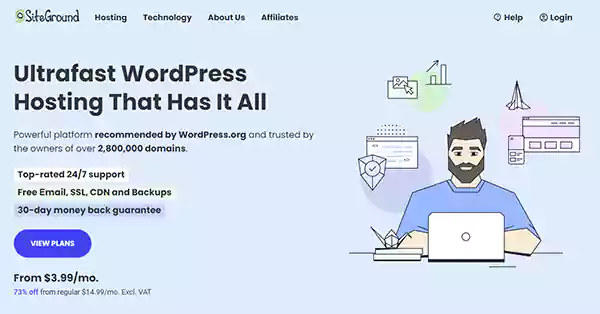 SiteGround is possibly the finest web hosting for a small business if you have the money and want to spend it on a reliable service. Especially those who want to engage in intense competition or sell online. To know more about SiteGround features, jump to the next section.
Features
The options offered by SiteGround for business users are numerous. The option to add collaborators, a user-friendly staging tool, and powerful eCommerce tools are all included in web hosting plans that are made to cater to your business needs.

It hosts the websites of its customers using the Google Cloud infrastructure. Moreover, there are 7 server locations from which to pick.

SiteGround has focused extremely on a performance-oriented strategy. The server also offers a number of speed-improving tools including a native CDN, Ultrafast PHP (a faster custom PHP configuration), SuperCacher, and SG Optimizer plugin. 

The host provides a lot of features, focusing specifically on security. To keep your company website safe, the service offers round-the-clock server monitoring, automated daily backups, spam prevention, account isolation, a web application firewall (WAF), a security plugin, and many more.

SiteGround provides quick and efficient assistance. You can access a comprehensive knowledge base, live chat, email, and ticketing services from SiteGround, all of which are available around the clock. Your problems will be resolved quickly and amicably by the agents.
Pricing
SiteGround is one of the best web hosts for small businesses, which you will get to know once you review these plans offered by it:
StartUp ($3.99/month)

GrowBig ($6.69/month)

GoGeek ($10.69/month)
Pros & Cons
PROS
CONS

Interactive and easy to use interface.

Performance-enhancing features and tools

Daily backup and staging of the website, along with numerous security features.

Servers present at different locations around the world.

Free domain is not included in web hosting business plans.

Prices are a bit on the higher end.
In conclusion, SiteGround is a fantastic choice when it comes to web hosting for small business websites. User experience, performance, and all other features are created to make running a business simpler for you.
For bigger commercial sites, Liquid Web offers a premium, fully-managed cloud service at the enterprise level. For quick and simple site maintenance, the service combines excellent server power, simplicity, and many business-oriented capabilities.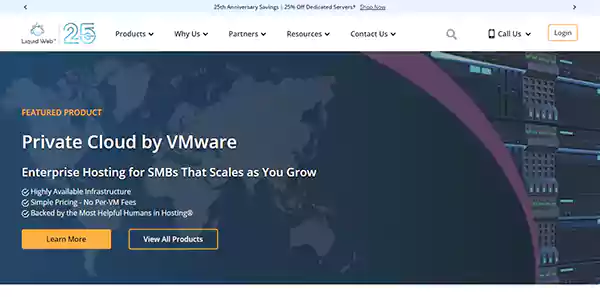 Although Liquid Web Services' price is far more than that of the other providers we've listed thus far, this host is ideal for online companies because of its ample storage, powerful servers, and selection of administration panels, particularly internet retailers.
Features
Liquid Web provides managed VPS hostings for your business websites. The provider will handle all technical elements of your hosting while retaining your full root access and letting you choose between Plesk, InterWorx, or cPanel from 3 user-friendly control panels.

The host's SLA guarantees a 100% uptime rate. As a result, you can be confident that your website will always be operational. If not, Liquid Web vows to make up for it.

Due to its high-performing servers, the average response time is approximately 521ms and the completely developed website just takes 1.2s to fully load.

One of the most dependable features of this host is its robust security. Every website, especially one that is used for commerce, has to be secure. As a result, all of Liquid Web's VPS plans include everything you need for ensuring the utmost safety of your data, including automatic backups, free SSL that must be manually activated, configurable firewalls, a dedicated IP, and DDoS protection.

Liquid Web makes it simplified for you to scale your business online. By providing dedicated, cloud, and enterprise-level managed hosting solutions, Liquid Web makes scaling extremely simple if you end up needing more resources than you first anticipated.
Pricing
Liquid Web offers a 30-day money-back guarantee along with four cloud plans that are stated below, which can prove to be the best choice for hosting your business:
2GB RAM ($15/month)

4GB RAM ($25/month)

8GB RAM ($35/month)

16GB RAM ($95/month)
Pros & Cons
PROS
CONS

100% server uptime guarantee is provided by Liquid Web which is backed by SLA.

Completely managed VPS Cloud services

Users have three options: cPanel, Plesk, and InterWorx, to choose from for their control panel.

Regular automated backups and free SSL.

No free custom domain is included with any of the packages.

Pricing of the packages is definitely on the upper end.
Overall, Liquid Web is a top-tier enterprise-level VPS hosting provider that is ideal for companies of all sizes. Liquid Web provides all you need in terms of dependability, server power, and user-friendliness.
Due to its strong speed, extensive security measures, and user-friendliness, InMotion Hosting is a particularly suitable option for small business web hosting and eCommerce sites.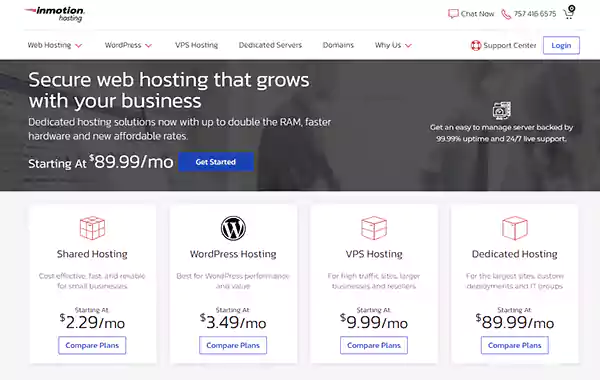 The following are some key reasons why InMotion Hosting is a suitable option for hosting small business websites:
Features
Every InMotion package will include everything you need to launch and develop a website, including various marketing tools. 

This host provides security that addresses the majority of problems, expert email, and marketing tools to advertise your company online

Moreover, you can utilize BoldGrid, a WordPress website builder that enables you to create a professional-looking website in a matter of minutes..

All hosting management-related duties can be handled by the user with InMotion Hosting's audience-favored cPanel. It is a simple control panel that is simple to use and it is not very complex to become used to its functionality and features. 

With its focus on performance, InMotion is well renowned for delivering it. All plans include features like UltraStack, which combines Brotli Compression, PHP-FPM, and NGINX proxy caching for a fast corporate site.

A phone line, community forum, email, base, 24/7 live chat, blog, ticket system, and even Skype are just a few of the enormous variety of customer service alternatives offered by InMotion. As a result, you can relax knowing that aid is always available.
Pricing
The pricing of this one of the best web hosting business plan providers are as follows:
Core ($2.29/month)

Launch ($4.99/month)

Power ($4.99/month)

Pro ($12.99/month)
Moreover, you are given a 90-day money-back guarantee, which is three more times than is typical for hosts.
Pros & Cons
PROS
CONS

Easy to use and navigate through, cPanel interface for hosting management.

Plans are packed with a lot of features.

Extended security and performance-enhancing features are offered with plans.

Free SSL, website builder

Impressive customer support service.

The most basic plan doesn't provide many features.

Plans are slightly on the higher end.
Overall, when it comes to reliable web hosting for small enterprises, InMotion Hosting checks all the boxes. At each stage of the process, promptness, good tools, and around-the-clock customer assistance are provided.
WPX is a reliable web host with a unique selling proposition. They have put a lot of effort into providing outstanding web hosting services, such as lightning-fast website loading.
Being a part of WPX is similar to having a team of WordPress developers available to you at all times to address your difficulties, within reason.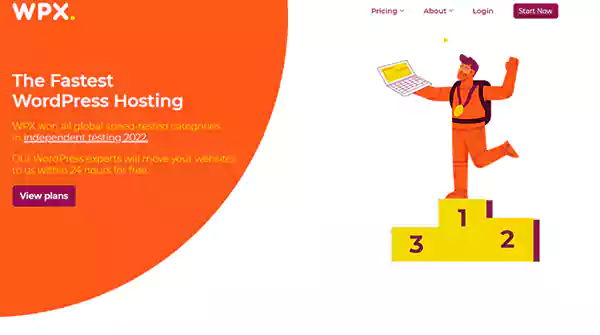 Stated further are some of the most admired features of WPX:
Features
The business's live chat response time is 30 seconds. Knowing your customer service KPI can help you realize that a quick answer doesn't mean much on its own. You'll be relieved to learn that they also take care of the majority of client concerns on the first occasion.

For internet entrepreneurs and owners of small businesses, we believe WPX to be the greatest web hosting provider. There are no upsells, add-ons, or secret payments with WPX. It offers excellent value and is the top web server for WordPress users.

This host offers a quick load time for your business website. WPX offers load times that are faster than those of any other commercial web hosting company. 

Daily automated backup services are also provided by WPX. You can request a refresh if something happens to your website, such as if you unintentionally delete a few important lines of code. And it is worth mentioning that for the same service that WPX offers for free, some businesses demand a high price.

Outstanding client support service is provided by WPX. Live chat customer service is offered round-the-clock. The host claims to cater to each request within a response time of fewer than 30 seconds, and the majority of issues are fixed during the initial contact.
Pricing
WPX provides these three exciting packages that will get you to launch your business website:
Business ($20.83/month)

Professional ($41.58/month)

Elite ($83.52/month)
Pros & Cons
PROS
CONS

Average loading time of the completely developed website is considerably lower.

Free SSL, and regular backup.

Easy to use and navigate user interface.

Round-the-clock customer support service

High performance

Plans are slightly on the higher side.

WPX web hosting has limited storage capacity. Need to pay more for bigger storage.
For internet entrepreneurs and owners of small businesses, we believe WPX to be the greatest web hosting provider. There are no upsells, add-ons, or secret payments with WPX. It offers excellent value and is the top web server for WordPress users.