Best Digital Business Card App 2023 [Top 9 Free & Paid Apps]
A Digital business card is dynamic, convenient, and cheap. It could boost a business' network growth by up to 10 times. These cards help the brands track customers, message them, and develop a premium brand image – all on a safe and secure platform. 
A recent Marketing Report released by Market Research Future, via Globe Newswire, claims that by 2027, the virtual business card industry will reach 242.3 million USD in value. 
Read this blog to identify the top 9 digital business cards app in 2023.
What is a Digital Business Card?
A digital business card is a virtual representation of your essential personal or business information, to connect with the business' stakeholders. This information includes personal/business name, address, contact number, email ID, website link, image, and social media links.
The colors used, designs, and the general way in which all information is being put through such cards to the audience, form a specific perception of that business. Apart from a digital card, the Google People Card could also help a business in developing their ideal brand perception.
Best Digital Business Card App for 2023
There are several digital business card apps in the market, which claim to help businesses in fulfilling their desired growth for their networking needs. However, it is pertinent to choose an app that aptly fits your own business goals. 
Following are some of the most popular and efficient e-business card apps that can help your business reach its full networking potential.
Beaconstac: #1 App for Digital Business Cards 2023
Among all the digital business card apps, Beaconstac is one of the most popular and is used by several big brands. On its website, the company boasts about being a solution supplier to brands like Pepsi, Apple, Deloitte, Nestle, and The New York Times.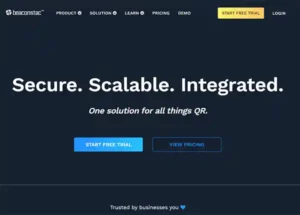 What are the Key Features Offered by Beaconstac Virtual Business Card App?
It

creates a simple QR code

that can be scanned by the clients for your contact details. 

No need to download the app

for your clients to have your contact.

Additional features include

admin control, card analytics, integration with multiple CRMs, bulk creation, and custom domain

.

GDPR & SOC2 Type II compliant

, and enabled with SSO Login and multifactor authentication.
Prices of Beaconstac:
Type of Plan
Pricing (Annual)
Individuals

Lite

15 USD

Pro

49 USD

Businesses

Plus

99 USD

Enterprise

Custom
Due to its wide variety of features and security, Beaconstac is also the best digital business card app for iPhone. If you're unsure about the app, there's not much need to worry, as there's a 14-day free trial available for all users. 
The Haystack is a digital business cards app that is also quite popular in its niche. The company boasts about its efforts to support digital marketing efforts for brands, as well as assist in the formation of a sustainable society.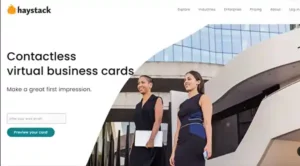 Key Features: 
Helps businesses to drive traffic to their website, social media pages, and key links

Multiple templates

Admin controls

Card scanner

Integration with CRMs 

SOC 2 Type II certified security
Pricing: 
| | |
| --- | --- |
| | Pricing  |
| Individuals | Free |
| Businesses | 4.95 USD (monthly) |
| Enterprise | Custom |
For businesses, they offer a 30-day free trial period. You may also connect to them for custom pricing options. 
HiHello due to its creativity is among the best digital business card app for iPhone. This app has been a solution provider to Google, Zales, AT&T, Amazon, Verizon, and Carta.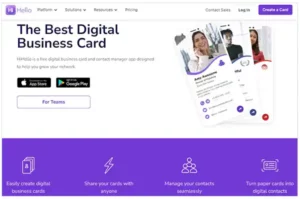 Key Features: 
No need for card receivers to download the app.

Separate address books, contact notes, and tags.

Converts paper cards to digital cards.

Customized virtual background for the QR code.

Other features of e-mail signatures, custom URLs, and administrative controls.
Pricing: 
| | | |
| --- | --- | --- |
| | Number of Users | Pricing (Monthly) |
| Individual | 1 | Free |
| Professional | 1 | 6 USD  |
| Business | 5+ | 5 USD (per user) |
| Enterprise | 100+ | Custom |
As a business, apart from using a digital card, you also need to connect to web hosting providers for the digitalization of your entire business. Such digitalization is highly useful in connecting to new clients. 
Among the digital business cards app, Switchit owns a reputable place. This app provides users with several features that other apps are not able to integrate into their solutions. Moreover, the users are also able to connect separately to the mobile app and the web app of Switchit.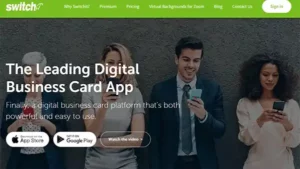 Key Features: 
Integrate videos with virtual business cards.

SMART contact management, aids in calling, texting, adding new contacts, exporting contacts, and note-making.

Create follow-up reminders

Custom branding

Integrating the user's web portal, file attachments, and calendar
Pricing: 
| | |
| --- | --- |
| Type of Plan | Pricing |
| Basic | Free |
| Premium | 6.99 USD monthly |
| Business | Customized |
Particularly for businesses, you may choose to directly contact the company for customized solutions & cost structure. 
KADO also qualifies as the best digital business card app for 2023. This app provides more formal card templates to its users when compared to the other apps in the league.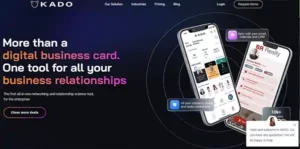 Moreover, the app has made its best efforts to achieve seamless networking for users, by integrating all of their contacts, e-mails, web links, social media links, and other online materials. 
Key Features: 
Send digital cards through QR codes or links

Integration & tracking with CRM

Central management of contacts and leads 

LinkedIn preview 

Enterprise-ready solutions
Pricing: 
| | |
| --- | --- |
| Type of Plan | Pricing (Monthly) |
| Basic (up to 3 users) | Free |
| Teams | 3.71 USD |
| Business | 7.48 USD |
KADO is a free digital business card app for basic users. The plans for teams & businesses could be started with a free trial. You may check the free trial options on the KADO Networks website. 
The e-business card created through the Mobilo app might be the only one in its category to provide a comfortable contact-sharing option with a single mobile tap. Mobilo has been a digital card provider to more than 25,000 teams, in several product and service industries.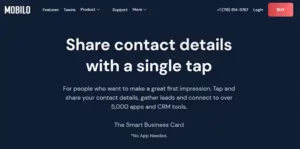 Key Features: 
Integrated NFC chip to support card sharing through a single tap. 

Four powerful modes for the card – business card, landing page, lead generation, and URL linking. 

Compatible with all types of old & new smartphones.

Multiple customization options, even for developing physical cards. 

No app is needed to share the card.
Due to such advanced features, the Mobilo could also be counted among the best digital business card app for iPhone. This app is quite popular among freelancers. Further, there are several strategies that freelancers may employ, to get more clients. 
Pricing:
| | |
| --- | --- |
| Type of Plan | Pricing |
| Personal | Starts at 4.99 USD (one-time cost) |
| Teams | User license at 39 USD, per employee, per year. |
The pricing options for teams and businesses are further customizable at Mobilo. You may visit the company's website to connect with them for pricing. 
The CamCard is among the oldest names in the virtual business card industry. The app gained its fame after being featured in the tech articles of BBC & The New York Times.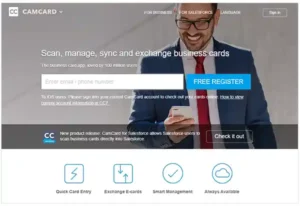 Key Features:
Scan & read cards in 16 languages

Track recent activities of your contacts

Add notes, texts, images & reminders

Assign tasks to other colleagues

Centralization of all data

Military-grade data encryption

Export customers' data
Pricing:
| | |
| --- | --- |
| Type of Plan | Pricing (Monthly) |
| Premium | 21 USD per user |
| Professional | 25 USD per user |
Thus, you may choose the type of plan, on the basis of your requirement for the card. 
Knowee is known to be among the best free digital business card app in 2023. In terms of the variety of features, the app covers most of the features offered by other apps in this category. It is compatible with both iOS and Android mobile phones.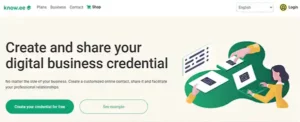 Key Features:
e-Mail signature tools & unique URL linking facility

SSL secure communication & data encryption

GDPR-compliant in the EU region

Storing received cards

Export feature to CSV file for CRM system

Identity certification & validation
Pricing:
| | |
| --- | --- |
| Type of Plan | Pricing (Monthly) |
| Individual | Free |
| Team Pack | 2,49 € (per user) |
| Business Pro | 0,90 € (per user) |
The business customers can further contact the brand for customized service & price solutions. 
Blinq thrives in its market positioning as an agile business application. The card provides its users with the ability to update all the information on their card, with minimum time usage.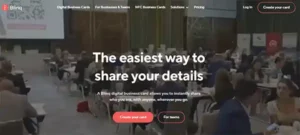 Key Features:
Instant card update

Automatic card creation using Active Directory integration

Dynamic email signatures

Share card with QR code, LinkedIn, or email

Integration with Apple Watch

Integration with NFC business cards
Pricing:
| | |
| --- | --- |
| Type of Plan | Pricing (Monthly) |
| Basic | Free  |
| Premium  | 2.99 USD |
| Business  | 4.99 USD |
| Enterprise  | Custom  |
With its basic plan free for individuals, the Blinq is a free e-business card app in 2023. The enterprises can further contact the sales team of Blinq, to know the custom pricing options for their card. 
Is Digital Business Cards App Worth it?
Any invention is the result of a vehement need. A digital business cards app serves a wide amount of needs and interests of its users. 
An e-business card is convenient. Now, you do not need to carry that unnecessary stack of paper in one's pocket, all the time. 

It's also unrestrained by location or proximity. This benefit is particularly garnered by businesses that have to deal with cross-country, even cross-state clients. 

Such a card is easy and quick to update. This is helpful in today's dynamic business environment, where a business needs to be agile and continuously

boost its brand awareness

. 

Also, virtual business cards are also highly convenient for customers. They're easier to store and find on mobile than a paper card, which is stacked somewhere under that bedside drawer. 

The e business cards are trackable. With the recent tools and apps for electronic business cards, it is now much easier to know when a customer has viewed your card. 

They're much more affordable than their traditional alternatives – paper cards.

Finally, as claimed by many new-generation businesses, e-business cards are sustainable. On a daily basis, over 200 million trees are being cut down by the paper production industry. Hence, virtual business cards are an effort to prevent such depredation towards the environment.
Hence, virtual cards & e-business card apps, are an essential part of today's businesses to remain agile, and tech-savvy, promote premium brand image, and connect with customers.
How to Choose the Right Digital Business Card App?
A business is never done arbitrarily. It's planned, strategic, & well-thought-out. The same should be the case with choosing the right digital business card app. In that case, you can consider some of the key points that must be kept in one's mind while deciding the right electronic business card app for creating your card, today. 
Personalization & Customization
The key benefit of using a virtual business card is its ability to provide its users with a customized solution to their networking needs. Therefore, an e business card app with as much customization and personalization as possible is the right pick for a next-generation business.
Tracking
The key benefit of a virtual business card is tracking. They help to track the level of engagement, and even send a quick message to customers when they open the card. 
Security 
Certain businesses, especially those in the B2B industry, prefer to secure their contact details against any unauthorized access to the e-business card. Depending upon this requirement, an app needs to be chosen which provides the features of password protection, and two-factor authentication, restricts sharing, or depicts only limited contact details upon third-party access. 
Cost of Using the App
It is also pertinent to select the correct pricing plan while picking the right digital enterprise cards. For basic requirements, one may select the basic free plan, while, for specific requirements, you may need to consider the cost criteria. 
Hence, while choosing an e-business card app, one needs to consider their requirements for customization, consumer tracking, security features, and comfort with the cost of the app. 
How to Create Digital Business Card?
For most virtual business card-making apps, the process of creating the card will be as simple as the following few steps. 
Download the particular app which you want to use for your business card making.

Sign up with your basic details into the app.

Open the dashboard, and select your preferred card template on the app.

Enter your requisite contact, e-mail, links, and other details that you desire to be on your digital card.

Incorporate other branding details into the card.

Enable all or some of the networking features, analytics, CRM, calendar, etc., that you desire to use with your card.

You may then generate the QR code and/or link to the card, which you then may share with your contacts. 
Therefore, you can easily create an advanced digital card, with a few basic steps on a mobile app. A perfect digital card would be the one that helps you to connect with customers through touchpoint marketing. 
Conclusion
A Digital Business Cards app is an effective way for a business to position itself as both a sustainable and technology-efficient brand. For the next generation of businesses, virtual business cards are the most correct way forward. 
These cards can be easily created using a free or paid card-making app. So, you may select the right app for yourself based on your key requirements and financial ability. 
Read Next: 10 Types of Propaganda Techniques in Advertising
FAQs
Ans: Yes, for both Android and iPhone users, there are certain digital business card apps available in stores to be downloaded. These apps could help you to create an effective one.
Ans: There are a number of apps that could be used for digital card-making. However, Beaconstac is the most preferable choice for businesses.
Ans: You could get your e-business card for free by using the free version of a virtual business card app. Haystack, HiHello, Switchit & KADO, all have free versions of their card.
Ans: With the highest list of features, the Switchit app might be rated as the best for creating a free digital business card app.
Sources: